Slip ring motors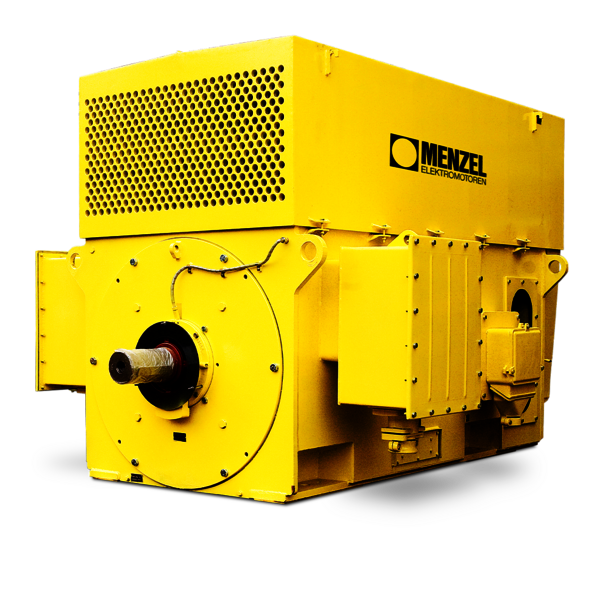 Slip ring motors are the motors of choice whenever high starting torque or low starting current are required. They are especially suitable for heavy load inertia applications.
Already since 1927, we are a global manufacturer, supplier, and distributor of large slip ring motors up to 8000 kW and 13800 V. We deliver complete motor solutions to the world's most demanding industries. Slip ring motors from MENZEL are extremely efficient, reliable, and robust. They are used in various industries such as cement, paper, water or steel and are employed there as drives for mills, compressors, blowers, refiners, shredders, etc.
MENZEL slip ring motors, also called wound rotor motors, are available in all current motor cooling and protection types for low-voltage from 75 kW as well as medium and high voltage up to 15000 kW. They set technical standards in terms of size, performance, economy and reliability.
Available voltage ratings of our slip ring motors
Our slip ring motors can be delivered with the following nominal voltages as standard. However, depending on your specific application, we can also manufacture slip-ring motors for any special voltages or different voltage tolerances. Please do not hesitate to ask us for our special motor solutions!
Nominal voltage at 50 Hz
Low voltage: 220 V, 380 V /400 V, 500 V, 690 V
Medium and high voltage: 3000 V, 3300 V, 5000 V, 5500 V, 6000 V, 6300 V, 6600 V, 10000 V, 10500 V, 11000 V
Nominal voltage at 60 Hz
Low voltage: 380 V, 400 V, 440 V, 480 V, 500 V, 525 V, 575 V, 690 V
Medium voltage and high voltage: 2300 V, 4160 V, 6000 V, 6600 V, 7200 V, 11000 V, 13200 V, 13800 V
In order to simplify the overview, we have sorted our slip ring motor series for you according to the standard cooling classes. Please find the list further below. If you are not able to find the motor you are looking for, please contact us directly. MENZEL specializes in customized slip ring motors, which we produce for you in smaller editions exactly according to your requirements.
Slip ring motor catalogues
For our slip ring motor catalogues please see our download section. Here you can find motor catalogues and data sheets of our standard motor series inluding MENZEL modular slip ring motors (MEBSSL, MEBSSW, MEBSSD), medium and high voltage slip ring motors, as well as low voltage slip ring motors (MEBSGR).
Example slip ring motor projects
Slip-ring motors characteristics and benefits
While slip-ring motors themselves come at a higher purchase price, their robust and cheap starters make for a decidedly more inexpensive complete package than a squirrel-cage motor with frequency inverter. They are also quite rugged and highly resistant to dust, dirt and moisture, which is a definite advantage in an application environment such as a cement plant. For operation in mill drives, slip-ring motors also have a major advantage because they can provide full-start-up torque out of a locked-rotor stage.
"Generally speaking, the decision for a solution with frequency inverter should be made on a need-to-have, not a nice-to-have basis. For instance, applications that always require the same speed, no matter how high tech they may be otherwise, are often better off with a robust slip-ring motor solution." The classic "workhorse" slip-ring motor may need a bit more attention, but it's reliable and can usually be controlled and maintained by plant staff directly on-site.
Which electric motor type is best suited for an application is a decision that operators should make in consultation with an experienced slip-ring motor manufacturer, as additional factors that may drastically vary from one application to the other need to be taken into account.
Slip-ring motor manufacturer MENZEL provides short-term availability and adaptation, application-specific requirements and world-wide logistics. We can react very quickly due to a comprehensive stock of slip ring motors in a power range up to 15000 kW. Most slip-ring motors that leave our plant in Germany are special adaptation specimens – for example motors that are no longer being produced by large companies such as Siemens, or ABB. Typically, these are single slip-ring motors that are electrically and mechanically identical to older models.
MENZEL slip ring motors advantages
Reliable and durable bearing design
High load-bearing capacity
Reliability and long product life
Low operating and maintenance costs
Customer-specific special designs
You are looking for a specific slip ring motor for industrial applications? Send us your specifications, we will prepare you an attractive offer.