MENZEL Elektromotoren certification
MENZEL Elektromotoren works and manufactures in accordance with the strictest quality specifications, which are regularly tested and certified by TÜV.
The main aim of our market activity is to satisfy our customers. From Menzel, you can always expect reliable service, first-class product quality, and competent, specialist advice. This claim is deeply routed into our company philosophy, and the conscience of each individual employee.Our MENZEL TÜV certification is indisputable proof of quality.
TÜV certification pursuant to DIN EN ISO 9001
A few years ago, in order to ensure quality, we installed a quality management system for the planning, production, assembly, delivery and service of electric drives. This is regularly audited by TÜV Süd.
Menzel Elektromotoren Berlin is TÜV certified pursuant to DIN EN ISO 9001. We can provide you with a copy of the current MENZEL TÜV certificate on request.
Recognition for BV Mode II Scheme
We have also been certified by Bureau Veritas (BV) Marine & Offshore. Bureau Veritas (BV) is one of the world's leading classification societies for ships and offshore installations. They have certified our electric motors for marine and offshore applications with a Recognition for BV Mode II Scheme certificate.
MENZEL quality and reliability
The high requirements of our international industrial customers in terms of quality and reliability motivate us every day. Your individual requirements and requests are the focal point for all the tasks carried out by our engineers and technicians. They set high quality standards for our electric motors and services.
MENZEL is a German manufacturing company. Our electric motors are suitable for long-term use under the toughest industrial conditions.
Supply due diligence act - Menzel policy statement
We are aware of the responsibilities associated with our global business operations and are committed to conducting our business in an ethical and socially responsible manner. With our production facilities in Germany and numerous sales offices worldwide, Menzel Elektromotoren GmbH has a global network that supplies numerous customers worldwide. Compliance with human rights and social standards, as well as ensuring appropriate working conditions, also from an environmental perspective, are of central importance, not only in relation to our employees, but also within our entire value chain. Read more in our policy statement to the supply due diligence act 2021.
Menzel quality motors are characterized by: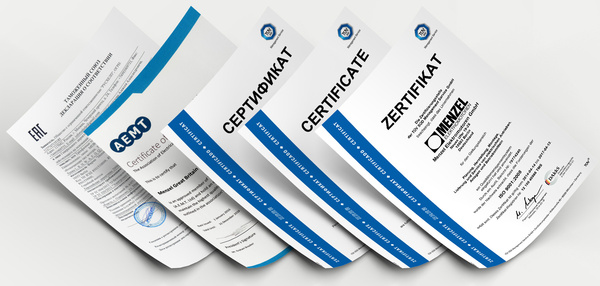 High-quality components and building materials
State-of-the-art production facilities for precise work
Highly-qualified specialists and engineers
Defined production process with consistent quality checks throughout
Comprehensive motor tests with on-site testing bay
Compliance with all applicable European Standards and Regulations
Long-lasting relationships with leading suppliers and service providers
Systematic and consequential error analysis and processing
TÜV certification pursuant to DIN EN ISO 9001
We are always working to improve and optimize our processes. The management and employees alike work together to ensure that our quality policy is understood and observed in all departments of the company, and on all levels.