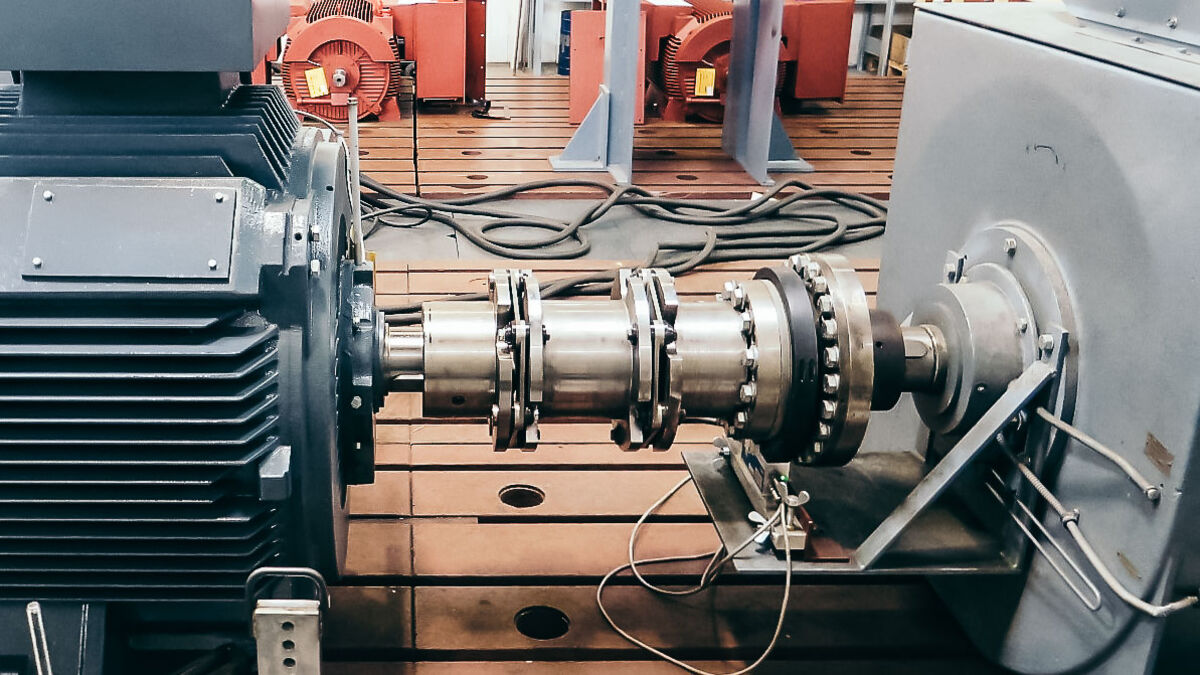 Electric motor test field
MENZEL electric motor test field in Berlin offers the latest test engineering for manufacturer-independent motor tests up to 13.8 kV.
Our test facility is one of the most up-to-date test stations of its type. It can also be easily hired for external motor tests. At our Berlin location, we offer you extensive test services encompassing routine checks, type tests, and system checks - including for external customers and brands. Our equipment includes a 6 kV converter, rotary converters for all normal voltages from 3 to 13.8 kV, and load resistors for checking generators.
The main usage scenario is the check of three-phase asynchronous squirrel cage and slip ring motors by means of a load check and/or heating test. However, the testing of synchronous machines or transformers, converters, and motor systems is also possible. In short: The technical possibilities of our test facility enable the realization of any type of special requirement.
Technical equipment of electric motor test field
Test voltages: Up to 13800 V
Feed with frequencies up to 120 Hz
Electrical power: To 2300 kVA (Higher power outputs can be checked through bi-frequency procedure according to IEC60034-29)
Max. shaft power of 1800 kW for network and system checks in a speed range from 500 to 3600 rpm
Crane capacity: 16 t + 10 t
Hook height: 4.5 m/5.2 m above the test facility
Test surface (clamping field): 2 clamping plates of 9 x 3 m
Connections for oil supply
Direct truck access possible
We can perform temperature rise tests on water-cooled motors with up to 107 kW power loss and up to 15 m³/h water requirement.
Our test facility service offering for you
Check of electric motors and generators
Check of asynchronous and synchronous machines
Check of horizontal and vertical machines
Check of transformer-converter-motor systems
Check of frequency converters
Electric motor load test field to meet the highest demands
The MENZEL load test field is the second test facility at the Berlin location. It was set up in our specially converted test hall in 2013. Here, a team of experts carries out tests up to 1800 kW under load and up to 10000 kW with no load - in accordance with the latest state of technology. In order to further expand our test service, we will shortly be installing another clamping field. This will allow us to ensure a smoother test process and to use the capacities of the test facility optimally to the benefit of our customers.
All measurements and tests are carried out and documented in accordance with the EN 60034 standards. However, our test facility engineers and technicians also have extensive experience and expertise with the test requirements of various inspection bodies at home and abroad. Our test field also meets all technical prerequisites for validating internationally required quality standards and parameters.
See the function and performance of our electric motors for yourself! If you want, you can even be present during the check of your motors. For this purpose, an appropriately sound-protected and heated visitor cabin has been integrated into the MENZEL test facility. From here, you can witness all of the details of the test process.
Routine testing and type tests for all motor makes
As a group-independent medium-sized company, we carry out routine testing and type tests on all makes of three-phase machines for you - with the utmost care and quality. This means that our test facility is not only used for the routine testing of our company's own motors. Instead, it is available for you in the form of our test service offering, and you can hire it out!
Throughout Germany, only a few group-independent providers offer test services of this kind. The possibility of carrying out routine testing and type tests for all motor makes at our test facility - including electric motors that were not purchased from MENZEL - will make you more flexible in the future. Now, you are able to plan better, and no longer need to wait for ages for a test date. So don't delay - Arrange your motor tests with us today!
An overview of our test facility measurement equipment
The new load test facility is fitted with the latest electronic and mechanical measurement technology.
Power instrument
Make: Yokogawa
Type: WT 1800
Maximum measurement voltage: 18 kV
Maximum measurement current: 1 kA
All measurements are possible for current and voltage in parallel in the three-phase systems at each stage.
Load resistors (optional)
Make: Gino
Type: LDV 1000-1000-5009-23
Nature: Air-cooled cast iron resistors that can be connected up in 1 kW steps from 0 to 1,000 kW
Three-phase current rated data: 1,000 kW at 800 V/3 phases; power decrease proportional to square of voltage decrease
Direct current: 500 kW at 700 V
Measuring flange 1
Make: Hottinger Baldwin
Rated torque: 5 kNm
Characteristic value tolerance: ± 0.1%
Maximum speed: 12,000 rpm
Measuring flange 2
Make: Hottinger Baldwin
Rated torque: 30 kNm
Characteristic value tolerance: ± 0.05 %
Maximum speed: 4,000 rpm
Bi-frequency tests
Accroding to IEC60034-29
For temperature rise tests up to 5 MW
Process flow - routine, type, and system testing