Crane duty motors
MENZEL crane motors for the heaviest lifting operations, with up to 600 starts per hour.
Crane duty motors or drives for hoisting facilities must be rated for short-term or periodic duty. MENZEL crane motors are available in operating classes S2, S3 and S4, and are therefore suitable for all lifting applications. They are designed for up to 600 starts per hour, and are extremely low maintenance.
In addition, our crane motors are particularly stable and robust. This also ensures the quiet, reliable operation of your crane systems and hoisting facilities, even in the event of mechanical shocks, possible vibrations, or overloads.
MENZEL crane motors are designed for the heaviest lifting operations.They are available not only with direct current motors or three-phase asynchronous motors, but also with squirrel cage motors and slip ring rotors in the case of three-phase motors.
Technical data on MENZEL crane motors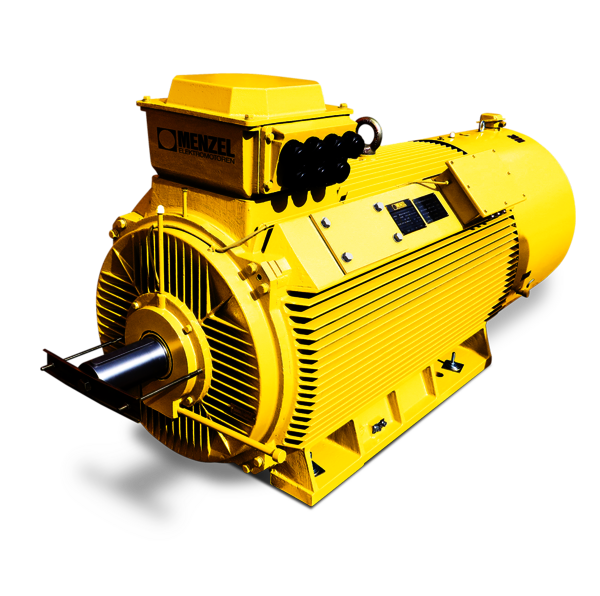 Direct current or alternating current (with squirrel cage rotor or slip ring rotor)
Power range: from 10 kW to 600 kW
Voltage: from 220 V to 690 V
Operating mode: S2, S3, S4
Starts per hour: up to 600 starts
Nominal speed: from 350 to 1,500 min-1
Common construction types: B3, B5, B35, V1
Available dimensions: 132 to 450
Motor housing:Gray cast iron or steel (on request)
Shaft ends: conical or cylindrical, 1 or 2 shaft ends
Cooling types: IC 411, IC 416
MENZEL crane motors – the advantages at a glance:
Robust mechanical construction for shock loads
High breakdown torque for start-up under full load
Extremely reliable and low maintenance
Choice of housing material
Customer-specific production, identical replicas
Personal advice, fast delivery
Crane motors for special operating requirements – Characteristics
Crane motors must comply with particular operating requirements. With our crane motors, we guarantee a high overload capacity, and a large speed control range.
Our crane drives are designed with very high tilting torque, so that they can be started up reliably, even in the event of possible voltage fluctuations, and at full load. The torque reserves of our crane motors are designed so that they can withstand high impact loads. Moreover, they have an overload capacity of up to 150%.
Customer-specific production and reproduction of hoist motors
MENZEL specializes in the customer-specific production of hoist motors. We construct crane motors specifically for your special requirements.
As well as customer-specific production, we can also make exact replicas of crane motors. Do you use older motors in your hoisting facilities, but want a suitable mechanical and electrical replacement? MENZEL is an expert in creating exact replicas of electric motors. You can therefore continue to use your cranes and hoisting facilities without any problems.
At the same time, we can modernize the cranes when creating replicas of them. This improves the performance and drive dynamic of your cranes, and simultaneously ensures significantly lower power consumption during no-load operation.This will save you money.
Are you looking for a hoist motor with special design? Send us your inquiry and specifications today – we will make you an attractive offer.