Drive systems for your test area
Our MENZEL drive systems offer complete, tailor-made solutions for your test area.
As a specialist in industrial electric drive technology, MENZEL also supplies complete drive systems specifically for test areas. In accordance with the intended application, our engineers will work with you to develop economical system solutions which are perfectly tailored to your test area.
You will save time, energy and money with MENZEL drive systems. Make the most of the opportunity to obtain everything from a single source, and to acquire a perfectly coordinated motor system.
Power and voltage ranges of our drive systems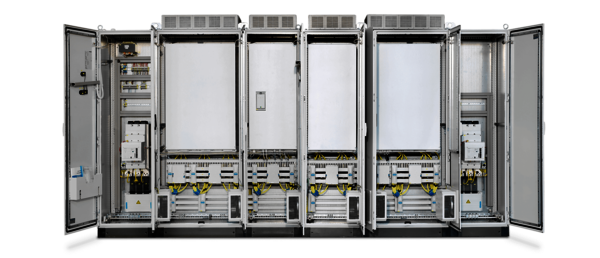 Mid and high voltage
Voltage range 2.4 kV to 13.8 kV
Power range 0.2 MW to 10 MW
Low voltage
Voltage range 400 V to 690 V
Power range 200 kW to approx. 3,000 kW
MENZEL operating systems – the advantages at a glance:
Flexible concept solutions for individual testing purposes
Special solutions for frequency inverters and soft-starters
Smoother plant operation, even under extreme conditions
High level of system efficiency, and low operating costs
MENZEL delivery program for complete drive systems
MENZEL delivers tailor-made system solutions for your test area, consisting of MENZEL electric motors, and branded components made by leading international manufacturers. Our product range includes complete drive systems for new plants, as well as upgrades for existing testing facilities.
Low-voltage, medium-voltage and high-voltage converters
Soft-starters for low, mid and high voltage motors
Excitation devices
Rheostatic starter
System controls and regulations
Container solutions
Associated supply transformers
MENZEL project organization for drive systems
Project analysis and planning
Advice relating to energy requirements and energy efficiency
Development of the system solution, incl. detail engineering
Integration into existing production plants
Inspections and documentation (overall functioning and sub-components)
Support during dismantling, assembly, wiring, commissioning, and after sales services
Proprietary brands and individual advice
MENZEL has successfully maintained long-term collaborations with renowned manufacturers of control systems and converters. The brands we use are extremely high-quality and powerful, and have a compact structure. The engineering for our drive systems is carried out centrally by our engineers, who will give you individual advice. The efficiency and usability of our drive solutions are paramount.
Our drives and controllers are flexible, and are characterized by their reliability and their robust design. This permanently ensures the maximum availability of your test area, and reduces the maintenance costs.
You can also rely on MENZEL's reliable, personal and professional technical implementation for all of our system solutions. In addition, you can benefit from our after sales service, regardless of where in the world your electric motors and inverters have been commissioned.
Are you looking for a complete system solution for your industrial plant? MENZEL offers drives and suitable control systems from a single source.