Rotating converter sets
MENZEL offers tailor-made rotating motor-generator sets of up to 20 MVA for your test area.
MENZEL rotating converter sets consist on the motor or generator side either of asynchronous machines or synchronous machines or a combination of both. Unlike transformers, rotating converters can convert voltage and frequency (50/50 Hz, 50/60 Hz or 60/60 Hz) by combining machines with different pole counts.
The electric motor and generator are not magnetically coupled, but only mechanically. This means that there is no direct electrical connection between the networks in the rotating converters. Instead, the energy is transmitted as mechanical energy via a rotating shaft from the electric motor to the generator. In this way, the frequency converters enable mains separation and effective filtration.
Power and voltage ranges of our rotating converter units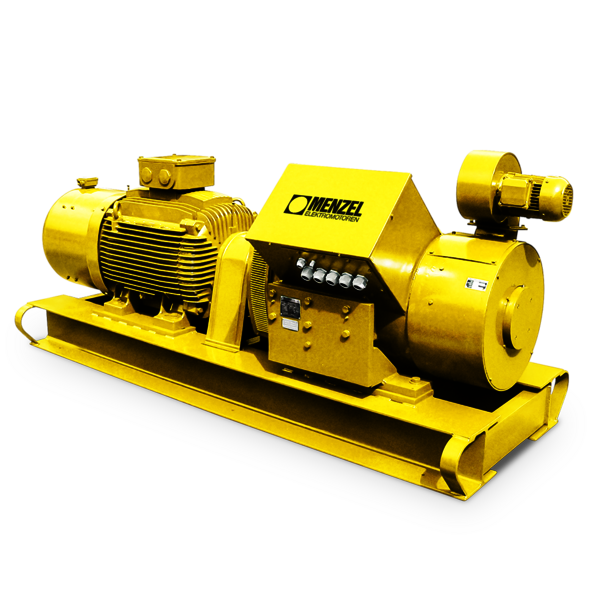 Power: up to approx. 20 MVA
Voltage: up to 13800 V (13,8 kV)
Rotation speed: depending on the application or the frequency
Protection classes: IP20 to IP55, IP56
Coolant: Air or water
Power factor: 0-1
What's included in the motor-generator-set?
Included in the scope of delivery of our motor-generator sets on request are:
VFD cabinet including Switchgear
Squirrel cage motor
Synchronous generator
Auxiliary drives
Input transformer
Oil lubrication set
Coupling
And many other smaller components that make the motor-generator-set complete
Our engineers will also provide you with recommendations for proper cabling and installation. Ask our experts!
Rotating frequency converter – advantages
MENZEL rotating converter units are used for network disconnection. A particular advantage is the (almost) perfect sinusoidal shape of the voltage and current. This enables, for example, reference measurements on frequency-controlled motors and transformers without the additional losses that result from the harmonic waves of electronic frequency converters.
Voltage and frequency can be adjusted independently of one another across the entire operating range. Other advantages of rotating converters are the substantial overload capacity and short-circuit resistance, which are important for the test area.
Rotating converter sets according to the customer's requirements
Our rotary converter sets are designed and manufactured specifically for your test facility applications. Our experienced team of engineers, electrical machinists, turners and welders will realize any customer request and requirement. Fast and reliable.
MENZEL rotating converter sets are delivered jointly mounted on a base frame at the customer's request or can be set up separately.
MENZEL offers suitable rotating convertor units for your test area. Contact us for a personal quote!