Case study: 7.5 MVA motor-generator set for transformer test field in Egypt
Our latest project is a 7.5 MVA motor-generator set for a transformer test field. The machine set with a total weight of 60 t is currently on its way to Egypt, where MENZEL employees will later put it into operation.
For our customer it was important that MENZEL designed the motor-generator set specifically for their special test field application. One special requirement was that the generator must function in both 3-phase and single phase operation. Thus a 1/3-phase changeover switch was specifically added for this purpose. The customer preferred a turnkey package from one supplier - MENZEL supplied a bespoke, 7.5 MVA motor-generator set utilizing its own products completely from one source.
Scope of delivery of the 7.5 MVA converter set
VFD cabinet (frequency converter) incl. switchgear
2300 kW squirrel cage induction motor MEBKSDF560-06
7500 kVA synchronous generator SR exc. MEBQSDF1000-06
Input transformer
Auxiliary drives
Oil lubrication unit for generator sleeve bearings
Control cabinet
Coupling between motor and generator
And many other components that make the system complete
The 7.5 MVA synchronous generator and the 2.3 MW squirrel-cage motor are Menzel manufactured products of our own brand. The frequency converter and transformer were sourced from reliable partner companies with whom we have had close business relations for many years. The control cabinets and programming came from Pawils Elektromaschinenbau, a Menzel Group company. Among other things, Pawils specializes in the supply of control cabinet systems.
The scope of supply also included various auxiliary drives, for example for forced cooling fans, an oil supply system with pump for lubricating the generator bearings, a coupling, and numerous smaller parts.
Menzel synchronous generator MEBQSDF1000-06 performance data:
Rated power: 7500 kVA
Rated voltage: 6300 V
Frequency: 50 / 60 Hz
Number of poles: 6 poles
Rated speed: 1000 / 1200 min-1
Type of construction: IM 1001 (IM B3)
Protection class: IP 23
Cooling type: IC 06
weight: 30500 kg
Menzel squirrel cage motor MEBKSDF560-06 performance data:
Rated power: 2300 kW (3085 HP)
Rated voltage: 615 / 690 V
Frequency: 50.4 / 60.6 Hz
Number of poles: 6 poles
Rated speed: 1,000 / 1,200 min-1
Weight: 7700 kg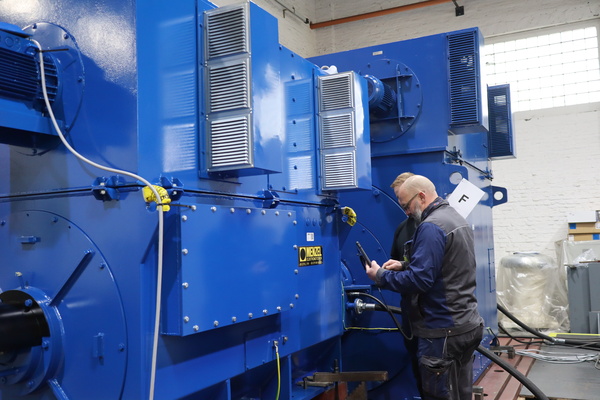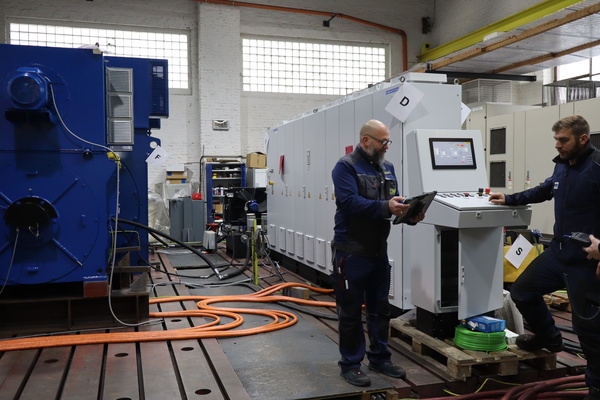 Single source for complete motor-generator-sets for test fields
Unlike many set-builder suppliers, MENZEL provides a one stop shop solution for motor-generator-sets consisting of motor, generator, frequency converter and all additional components for test field applications. Our range of motor-generator sets covers power ratings up to 20MVA and voltages up to 13.8kV.
The tedious search for compatible components along with calculation of all individual set components from different manufacturers and brands should no longer be your concern. Our engineers will do the exact calculation of all necessary parts for your custom motor-generator-set. Put the entire project engineering in the hands of an experienced manufacturer. We calculate, manufacture, and deliver according to your special test field specification.
Every rotary converter set project is unique according to the test field requirements of the customer. There is a lot of engineering involved and that makes the job exciting each and every time.
MENZEL motor-generators-sets vailable power and voltage ranges
Powers: up to 20 MVA
Voltages: up to 13800 V
Speeds: in dependence on the application or output frequency
Protection classes: IP20 to IP55 / IP56
Coolant: air or water
Cos Phi: 0-1
Are you looking for a manufacturer and supplier for a complete motor-generator set from one source? We offer the engineering and all related parts as a set. Send us your inquiry today!
Enquiry form
Working principle of a motor-generator set or M-G set
A so-called motor-generator or M-G set is the in line mechanically coupled, combination of an electric motor and a generator. The electric motor is supplied with electrical energy. Its mechanical power is used to turn the generator. What kind of generator depends on the final application of the M-G set. In our case here, it was a 7500 kVA synchronous generator used for test field operation for testing power transformers.
A motor-generator set is used to convert one type of electrical energy into another type. Therefore, it is also called rotary converter, motor-alternator set, or rotary frequency converter.
When used as frequency converters, this combination can be used to change the frequency of an alternating current supply, from 50 Hz to 60 Hz or vice-versa and also from 50 Hz or 60 Hz to 400 Hz. They can also convert single-phase power supplies to three-phase power power whilst also changing the voltage of the supply.
A motor-generator set can also be used to separate the electrical load from the supply line. In industrial power supplies where they can be used to eliminate voltage peaks and fluctuations.
All-in-one integrated engineering solutions from Germany
If you are asking yourself who makes rotary frequency converters with an all-in-one integrated engineering solution: it is MENZEL Elektromotoren GmbH from Germany. We are an ISO 9001 certified custom manufacturer that provides full know-how for motor-generator sets including 3-phase AC and DC motor powered synchronous generators.
MENZEL has been manufacturing and supplying electric motors and generators for industrial solutions worldwide since 1927. Special mechanical engineering and construction are our expertise. Besides motor-generator sets, we offer large three phase induction motors with slip ring or squirrel cage rotors as well as DC motors - as standard version or as special design motors.
Your engineering expert for motor-generator sets