Roller table motors
Robust, durable roller table motors for the most demanding industrial conditions in the steel and rolling mill industries - Special designs. Drop-in replacement. Identical replicas.
MENZEL roller table motors are used for operating transport and roller table motors, and cope with extreme electrical, mechanical and thermal loads. The steel and rolling mills run around the clock at maximum power. All of the roller table motors used here require very little maintenance, and have the highest possible levels of efficiency.
MENZEL provides custom roller table motors and ensures reliable operation, even under high mechanical stress. Depending on the application, we have the right drive solution for you. Our roller table motors have a low rotation speed, so that they can be directly connected to the rollers on the roller conveyor. Frequency and pole counts can be selected so that the overall level of efficiency can be increased, gears can be omitted, and maintenance costs can be reduced.
Our roller table motors guarantee an efficient production process.
Technical information on our three-phase roller table motors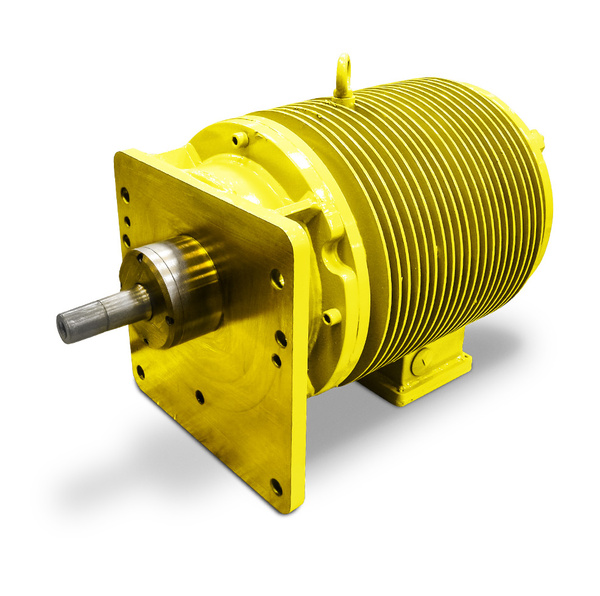 Three-phase roller table motors with squirrel cage motors
Voltage: up to 1,000 V
Dimensions: up to shaft height 400
Gilled design
Suitable for grid and inverter operation
Motor housing: standard design in gray cast iron, optionally in steel
Thermal utilization: Thermal class "F" (optionally "H")
Protection classes: IP 55 (optionally IP 66)
Cooling types: IC 410 (unventilated with surface cooling)
We supply replacements and replicas in exchange for motors that are no longer available – dimensionally and electrically identical to the original. Special drive solutions and drop-in replacements, e.g. of no longer available motors from Siemens, ABB, KLOSE or other branded motors are our specialty.
MENZEL roller table motors – the advantages at a glance:
Compact, robust, fully enclosed motor design
Low motor vibration due to reinforced welded steel construction (optional)
Reduced dirt accumulation and optimal cooling due to gilled housing
High level of reliability and minimal maintenance costs
High nominal, acceleration and breakdown torque
High performance capacity under extreme conditions
Individual, customer-specific production
Roller table motors for the highest electrical demands – Characteristics
Electric motors are usually measured according to their continuous output. However, in steel or rolling mills, electric motors for roller tables are chosen in accordance with very specific criteria. It must be possible to accelerate the motors of the individual rollers of the transport and work roller tables in a very short time span, and to change the direction of rotation under full load stress. Moreover, it may be that the rolling mill and transported material in the plant are badly affected or unexpectedly blocked.
That means that opposing field brakes, attempts and empty runs rapidly change successively. In order to be able to withstand these sudden torque fluctuations, short acceleration times and constant changes in direction of rotation, MENZEL roller table motors have correspondingly high rated, acceleration and breakdown torque.
Typical areas of application of roller table motors
MENZEL's compact and robust roller table motors are particularly suitable for operation under extremely harsh conditions.
Heavy industry
Steel and aluminum industry
Iron and steel industry
Rolling mills
Metal processing
Each application of a roller table motor is unique, and requires a special drive solution. Contact us for a personal quote!