Asynchronous slip ring motor
MENZEL asynchronous slip ring motors are robust and durable. They are used in industrial plants all over the world anywhere where there are high starting torques and low starting currents.
MENZEL AC slip ring motors are available as open-circuit ventilated (IC 01), surface-cooled (IC 411) or pipe-cooled (IC 511) variants or as motors with air-air heat exchanger (IC 611, IC 616 and IC 666) or air-water heat exchanger (IC 81 W). A brief call with us and we can clarify which cooling class is the most appropriate for your needs. We are glad to advise.
The following article primarily focuses on our modular AC slip ring motors, particularly the open-circuit ventilated IC 01 motors in our MENZEL MEBSSD series.
Standard design of IC 01 asynchronous slip ring motors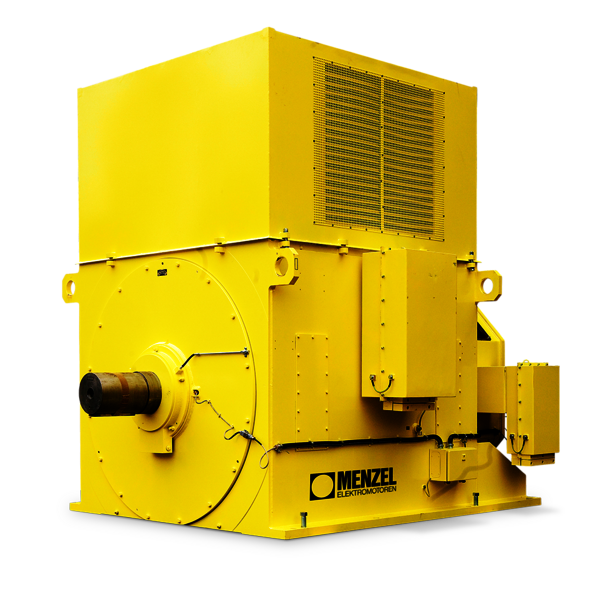 Construction types: IM B3, V1
Protection classes: IP23, IPW24, WBII
Voltage: from 230 V to 13800 V
Power: up to 8000 kW
Frame size: from 355 to 1000
Terminal box: right or left, rotatable by 4 x 90°
Motor housing: of welded steel with integrated footplates
Thermal utilization: F/B
MENZEL also delivers tailored special designs of IC 01 slip ring motors.
Available voltage ratings of AC slip ring motors (IC 01)
Here you can find our standard voltag eratings for AC slir pring motors. In addition, we can realize all special voltages and deviating voltage tolerances on request.
Nominal voltage at 50 Hz
Low voltage: 220 V, 380 V /400 V, 500 V, 690 V
Medium and high voltage: 3.000 V, 3.300 V, 5.000 V, 5.500 V/ 6.000 V, 6.300 V, 6.600 V, 10.000 V, 10.500 V, 11.000 V
Nominal voltage at 60 Hz
Low voltage: 380 V, 400 V, 440 V, 480 V, 500 V, 525 V, 575 V, 690 V
Medium and high voltage: 2.300 V, 4.160 V, 6.000 V, 6.600 V, 7.200 V, 11.000 V, 13.200 V, 13.800 V
The advantages of AC slip ring motors in the IC 01 cooling class
High level of efficiency and extremely low operating costs
Compact design with small dimensions
Reliable and durable bearing design
Reliability and long product life
High load-bearing capacity
Customer-specific special designs
Modular AC slip ring motors – characteristics
MENZEL open-circuit electric motors with slip ring rotor have a modular structure. These are in the MENZEL MEBSSD series. The modular design allows for a variety of cooling, protection, and mounting types, whilst the basic design of the motors remains the same. This saves costs during manufacture, which ultimately has a positive effect on the motor price. In addition, we can adapt the AC slip ring motors to your individual circumstances at any time. The modular design guarantees you complete flexibility in using these motors.
As is the case with the modular slip ring motors in the MENZEL MEBSSL and MEBSSW series, our open-circuit ventilated MEBSSD motors are always in demand where high starting or breakaway torques have to be realized. This is, for example, the case with mill or shredder drives.
Typical applications of slip ring motors in the IC 01 cooling class
User industries for IC 01 slip ring motors:
Process industry
Power plants
Paper industry
Steel industry
Cement industry
Raw material extraction and materials handling
Typical applications of IC 01 motors with slip ring rotors:
Compressor and compactor drives
Fan drives
Conveyor drives
Crane drives
Shredder drive
Mill drives
Open circuit-cooled electric motors - the IC 01 cooling type principle
Open-circuit cooled electric motors with slip ring rotor in the IC 01 cooling class are also designated as internal self-cooling motors. The IC 01 cooling class is a cooler where the air directly flows through the interior of the machine as a coolant. The heat generated in the motor (stator and rotor) is blown through the motor by a fan that is mounted on the rotor. This fan draws the ambient air through the motor in practical terms and discharges the heat into the atmosphere.
Special designs that deviate, such as with regard to speed control, forced ventilation, or pipe connection with motors that run particularly slowly, can be delivered as a special design at any time.
Open circuit cooling (IC 01) of an electric motor is considerably more intensive than surface cooling (IC 411), e.g., via cooling fins. Open circuit-cooled motors can also be made smaller as less material is required in their construction. They are characterized by their compact design and comparatively low weight. As ambient air is the only coolant, open circuit-cooled electric motors are primarily suitable for use in zones that are free of dust, dirt, and water.
Are you looking for asynchronous slip ring motors for heavy-duty industrial applications? Send us your request and we'll make you an attractive and tailored offer.