Medium voltage motors
Medium voltage motors are used in all industries in which heavy loads are moved or work is carried out in conjunction with particularly complex applications. Since 1927 they have been part of our extensive range of reliable, high-efficiency industrial motors for cement plants, pump systems, mines, the chemical, oil and gas industry, plant manufacturers and other users worldwide.
Menzel manufactures medium to high voltage asynchronous motors up to 13800 V (13.8 kV) with squirrel-cage rotors up to 25000 kW (25 MW) as well as slip ring rotors up to 8000 kW (8 MW). Various electrical and mechanical designs as well as all types of protection and cooling are possible. Our motors are designed for mains or inverter operation and comply with the current standards EN60034 and IEC60034, VDE, DIN and ISO.
MV motors up to 13800 V directly from manufacturer
For more than 90 years, the name MENZEL has been linked to the manufacturing of flexible and powerful MV and HV motors. They are our main business area. Our MV motors are available in different versions with different voltages:
Nominal voltage at 50 Hz: 3000 V; 3300 V; 5000 V; 5500 V; 6000 V; 6300 V; 6600 V; 10000 V; 10500 V; 11000 V
Nominal voltage at 60 Hz: 2300 V; 4160 V; 6000 V; 6600 V; 11000 V; 13200 V; 13800 V
Medium voltage squirrel-cage motors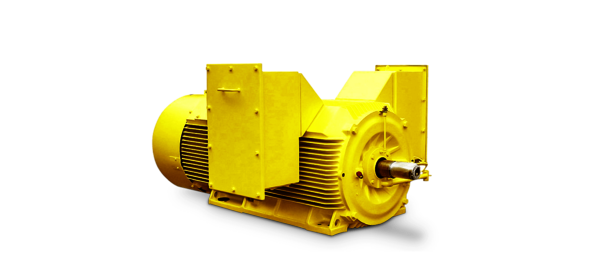 Medium voltage slip-ring motors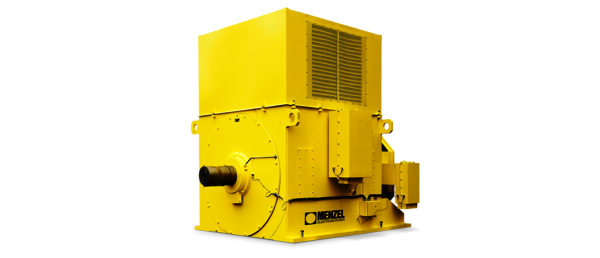 Advantages and features of our MV motors
MENZEL MV motors are designed for particularly tough and extreme industrial requirements. They are highly efficient, extremely robust, durable and easy to maintain
Available as MV squirrel cage motors and MV slip ring motors
All types of cooling and protection classes
Customized special constructions for even the most onerous applications
Identically interchangeable replicas of existing or obsolete motors
Offer built in adaptability for existing foundations
Production according to DIN ISO 9001
High load capacity, high torque availablity and long service life
High efficiency
Low operating and maintenance costs, with high MTBF performance
Also available for use in the most aggressive atmospheres
Custom design and special solutions are always possible at any time!
Medium-voltage motors in compact or modular design
MENZEL medium-voltage motors are built in compact or modular designs. The compact series, manufactured with a torsion-resistant gray cast iron housing, the modular series a flexible welded steel housing. Feel free to take a look at our electric motor catalogues, but don't forget that we also specialize in custom-made products.
Special solutions or 100% interchangeable replicas e.g. from no longer available Siemens, ABB, BRUSH or other brand motors in the industrial power range up to 25 MW are our specialty! For example, features in our designs easily facilitate foot and dimension adjustments for the exchange of old motors, the delivery of motor center height adapters and base frames along with terminal box modifications are part of our scope of delivery and collaborative service.
Large medium-voltage motors directly from stock
We have many of our large medium-voltage motors (up to 18000 kW) available for you directly from our extensive warehouse in Germany. If required, stock inventory electric motors can be modified by us within the shortest time. All motors are checked in our in-house full load test field and delivered to any place in the world.
Medium voltage motors for industrial application
MENZEL medium-voltage motors are operated worldwide in a wide variety of industries and markets. They are extensively used for heavy-duty applications such as compressors, mills, pumps, crushers, conveyor belts, shredders, fans, refiners and many more.
Typical industries that utilise Menzel medium-voltage motors
Cement industry
Mining and mineral processing
Chemical, oil and gas industry
Energy
Metal and steel industry
Paper industry
Pharmaceutical industry
Plant construction
Water and wastewater industry
Marine and many more
Medium voltage asynchronous motors by definition
Differentiating medium-voltage asynchronous motors by definition from high-voltage motors seems difficult in practice. In everyday usage and in our electric motor inquiries from all over the world, we see that the definitional boundaries are often blurred.
Asynchronous motors up to 690 V are referred to as low-voltage motors. Operating voltages from 1100 V to 7000 V are considered medium voltage. However, medium-voltage motors for industrial plants are typically requested for voltages from 3000 V or 3300 V and higher, as the two reference projects below show. All motors with over 10000 V are considered high-voltage motors in everyday usage.
Menzel produces and supplies asynchronous motors for industrial applications in the voltage range from 220 V to 13.8 kV, i.e. low voltage motors as well as medium and high voltage motors.
Example 1: medium voltage motor for driving a compressor
Menzel has supplied a specifically configured modular medium voltage motor for driving a compressor. The slipring motor from its MEBSSW range drives a reciprocating compressor operating in a dusty atmosphere at high ambient temperatures. In addition to implementing IP55 ingress protection and cooling type IC 81W (air-to-water heat exchanger), Menzel mounted two oil coolers directly on the MV motor housing for re-cooling of the sleeve bearings oil supply.
The 600-kW motor is intended to replaced an air-cooled motor featuring a lower protection class, IP23. Due to the new totally enclosed air circuit (CACW), there will be no more problems with small particle dust or dirt inside the motor, ensuring higher operational availability at ambient temperatures well over 40 °C. The new motor has an operating voltage of 3000 V and a rated speed of 491 rpm. It offers superior reliability, higher efficiency, low noise emissions along with lower operating and maintenance costs at a compact frame size and low weight.
Menzel has also configured this medium voltage motor to match the electrical and mechanical interfaces of the existing motor to ensuring a speedy installation without modifications on site. The customer is one of the leading Italian chemical companies producing a full range of industrial gases.
Example 2: MV Motor to rescue a Cement Plant in UK
Just recently a Menzel MV motor rescued a cement plant in UK. The company was called on an urgent basis following the catastrophic failure of an 3300V kiln fan motor. With the existing failed motor design now obsolete and typical replacement from new in excess of 30 weeks, Menzel were approached to see if they could assist with their unique stocking policy by providing an alternative 2270 kW slip ring motor solution which would get the plant back up and running, as the current situation saw the plant completely shutdown with production losses mounting.
Menzel engineers assessed the information from the customer, checked stock levels and fortunately were able to offer to the client a similar sized MV motor with minimal site adjustments.
Whilst Menzel Berlin prepared the motor, the client and his local contractors made the subtle changes to the foundation to match up with the incoming Menzel motor. The replacement motor was delivered from Germany, arriving in the early hours of the morning seven days from order. The motor was then fully run up to speed and brought to full load that very day.
Example reference projects