High voltage motors for industrial applications
High voltage motors from MENZEL are mainly used for heavy-duty industrial applications where particularly heavy loads are moved: e.g. cement and steel industry, mining, plant construction and many more. A high reliability of operation of the electric motors is essential here.
Our high voltage motors focus on industrial areas and applications with particularly complex and individual requirements. Depending on the required power, Menzel HV motors are designed for voltages up to 13800 V. They all comply with the current standards EN60034 and IEC60034, VDE, DIN and ISO, whereby individual electric design is also always available on request.
HV motors up to 13.8 kV directly from the manufacturer
We are a HV motor manufacturer from Germany. Since 1927, the name MENZEL has been linked to the manufacture of flexible and powerful high-voltage motors. They are our main business area. What sets us apart from other electric motor manufacturers are our tailor-made drive solutions and our flexibility as a medium-sized manufacturing company! We are experts for custom-made motors, special drive solutions, and 100% replaceable replicas in a power range of up to 25 MW.
We offer HV motors up to 13800 V (13.8 kV) in both squirrel-cage and slip-ring designs. Various shaft heights as well as all types of protection and cooling classes are possible. Menzel high voltage motors are designed for grid or inverter operation. Up to 18000 kW they are directly available from stock, in case of emergency.
Nominal voltage at 50 Hz: 3000 V; 3300 V; 5000 V; 5500 V; 6000 V; 6300 V; 6600 V; 10000 V; 10500 V; 11000 V
Nominal voltage at 60 Hz: 2300 V; 4160 V; 6000 V; 6600 V; 11000 V; 13200 V; 13800 V
Please take a look at our high-voltage motor catalogues and broschures.
High-Voltage squirrel-cage motors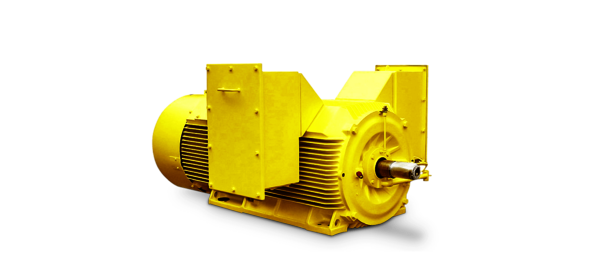 High-voltage slip-ring motors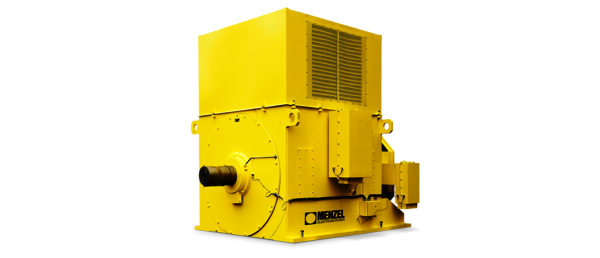 High-voltage motors in a compact or modular design
The various high-voltage motor series of MENZEL are subdivided into compact and modular design. They all offer a particularly high efficiency with low operating and maintenance costs. The compact series are manufactured with a torsion-resistant cast iron housing, while the modular series have a flexible welded steel housing.
The basic design of our modular high-voltage motors is largely identical, allowing a variety of options for protection, cooling and mounting types. This allows the modular motors to be quickly adapted to any industrial application. High-quality bearings as well as terminal boxes that are rotatable by 4 x 90 degrees and various coolers available from MENZEL at any time ensure maximum compatibility and flexibility.
Custom design and special solutions are always possible at any time!
Advantages and features of our HV motors
Our HV motors are manufactured for particularly tough and extreme industrial requirements. They are highly efficient, extremely robust, durable and easy to maintain
Available as squirrel cage and slip ring motors
All types of cooling and protection classes
Customized special constructions
Identically replaceable replicas of existing drives
Adaptations to existing foundations
Production according to DIN ISO 9001
High load capacity and long service life
High efficiency
Low operating and maintenance costs
Also for use in aggressive atmospheres
High-voltage asynchronous motors by definition
By definition, MENZEL manufactures low, medium and high voltage asynchronous motors up to 13.8 kV. But what is the exact definition of a low, medium or high voltage motor? There are different ideas about this in practice. Although the IEC 60038 standard clearly defines the limits, electric motors with more than 1000 V nominal voltage are often referred to as high-voltage motors.
From a purely mechanical point of view, medium and high-voltage asynchronous motors do not differ significantly from low-voltage asynchronous motors. Since the motor power is a product of voltage and current, the current can be reduced by increasing the rated voltage. This means that by using high-voltage asynchronous motors smaller conductor cross-sections can be used. High-voltage drives are therefore particularly recommended if large cable lengths must be used at the installation site.
Windings and insulation
Our high voltage windings are used as a stretched two-layer winding for voltages up to max. 13,800 V. Depending on the type of machine and the individual requirements of the respective request they conform with temperature class F (-155 ° C) or optional H (-180 ° C).
The high voltage winding is manufactured using the VPI method. The thermal stress of the high-voltage motors is subject to the temperature class "B". The winding copes with the highest mechanical stresses.
Bearings
At MENZEL only high-quality bearings and lubricants from well-known manufacturers are used. Our high-voltage motors are equipped with grease-lubricated SKF and FAG rolling bearings. They include a re-lubricating device and old grease removal.
Depending on the application, special bearings such as spherical roller bearings are available for shredder applications (reinforced roller bearings) to accommodate the larger radial forces. Motors with self-lubricated bearings or externally lubricated bearings are also available on request.
Motor tests
All tests and measurements of our high-voltage motors are carried out in our Berlin load test field. They are all documented according to the current standards of EN 60034. The MENZEL test bench offers state-of-the-art testing technology for manufacturer-independent motor tests up to 13.8 kV.
Routine test
Type test incl. Heating measurement
Optional: Tan delta measurement, impulse test, polarization index, vibration analysis
Learn more about the possibilities of our load test field and take a virtual tour with our test field experts.
Applications of high voltage motors
MENZEL high-voltage motorsare operated worldwide in a wide variety of industries and markets. They are preferably used for heavy-duty applications like compressors, mills, pumps, conveyor belts, shredders, fans, refiners and many more.
Typical industries
Cement industry
Mining
Chemical, oil and gas industry
Energy
Metal and steel industry
Paper industry
Plant construction
Water and wastewater industry
Marine and many more
Example reference projects