The challenge - on the search for a three-phase squirrel cage motor
An important fan drive had failed at the Manjung power station, bringing the plant to a standstill. In less than two weeks, MENZEL was able to make tailored adjustments to an 11 kV three-phase squirrel cage motor from stock, fly it to Malaysia, and carry out commissioning at the site.
If one of the main drives in a power station fails, you need to act really fast. The engineers at MENZEL Elektromotoren received an urgent inquiry from Malaysia via the MENZEL emergency hotline after an important fan drive failed at a coal-fired power station, meaning that an 800 MW power plant unit could no longer be operated.
11,000 V motor from stock for a 800 MW power plant unit.
The client was looking for an ex-stock 11,000 V drive that fitted exactly onto the foundation of the old motor from a Swedish manufacturer and that precisely met the client's mechanical and electrical requirements. After unsuccessfully trying to find a suitable motor locally, the company turned to MENZEL Elektromotoren in Berlin.
Our technical solution - immediate delivery from stock
MENZEL reacted quickly, and was able to modify a brand-new 11 kV, 50 Hz high-voltage motor with an output of 4,500 kW from stock within 96 hours, thus meeting all of the customer's requirements and ensuring that the motor fitted onto the foundation.
Among other things, the shaft and base fixing dimensions of the B3 motor were adjusted and the terminal box position was changed so that the old location and original cable routing at the power station could be reused without problems. In addition, the motor experts from Germany switched the cooling method of the squirrel cage motor from IC 81W air/water to IC 616 air/air.
Motor data of the three-phase squirrel cage motor
Rated power 4,500 kW
Rated voltage 11,000 V
Frequency 50 Hz
Poles 4
Rated speed 1,493 rpm
Mounting IM B3
Protection IP 55
Cooling IC 616
Weight 14,020 kg
Fast commissioning – happy customers
Once the 14 t motor had been flown in parts to Malaysia, assembled at the site by MENZEL engineers, and placed into operation, the power station was able to run at full power again after a downtime of less than two weeks. Once again, the Berlin-based manufacturer of industrial motors was able to demonstrate its precision and speed when an urgent call was received.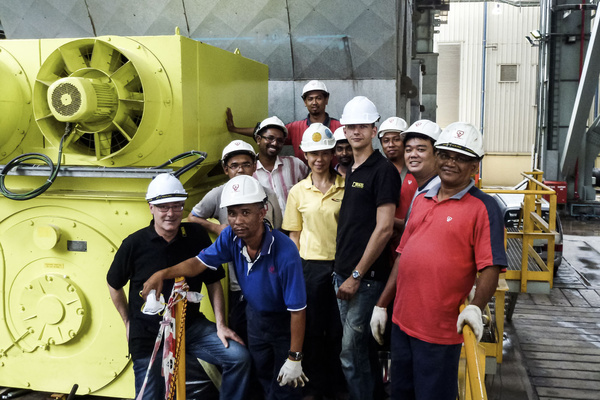 Natural gas and coal - by far the most important energy sources in Malaysia
Coal and gas remain the two strongest pillars of electricity generation in Malaysia. The demand for electricity in this Asian nation grows by between 3.5 and 4.6% each year, and both the government and independent electricity producers are remaining loyal to their focus on fossil fuels. The Energy Commission expects the nation's electricity consumption per capita to climb from 3,412 kWh to 7.571 kWh by 2030.
The Manjung coal-fired power station (TNB Janamanjung Sdn Bhd) is located in the South West of Perak State. It has four units with a production volume of 3,180 MW. The first unit was placed into operation in 2002 and the last in 2015. The completion of a fifth unit is planned for the end of 2017
Emergency? Accident? Plant at a standstill?
No problem, just call us! You can reach us 365 days a year - we look foward to hearing from you!