Three-phase generators with an asynchronous design
MENZEL offers three-phase asynchronous generators of up to 10 KVA for various industrial applications.
With our three-phase asynchronous generators, we guarantee the highest efficiency. We realize all special designs, whether they are horizontal or vertical. Our experienced engineers will assist you during your generator project – from the planning to the inspection – and, if necessary, also ensure its trouble-free commissioning on-site.
Over the course of our company's long history, we have been able to supply our three-phase generators to several energy providers, and to successfully commission them – be it in Cuba, the Middle East, or Central Europe.
As well as three-phase asynchronous generators, we supply three-phase synchronous generators, inter alia, for industrial cogeneration.
Technical information on our three-phase asynchronous generators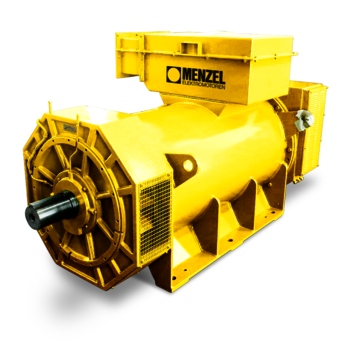 Three-phase asynchronous generators with squirrel cage rotors and slip ring rotors
Power: from 110 kVA to 10,000 kVA
Voltage: from 180 V to 13.8 V
Common construction types
Insulation: Thermal class "F" (optionally "H")
Thermal utilization: Thermal class "B" (optionally "F")
Frequencies: 50 and 60 Hz
All protection classes and cooling types
Pole count: between 2 and 16
Advantages of our three-phase generators
Customer-specific solutions
High levels of efficiency
Load-independent rotation speeds
Network-stabilizing behavior
High level of reliability and ease of maintenance
MENZEL three-phase asynchronous generators – Characteristics
A three-phase asynchronous generator is a good alternative to smaller or medium-power wind and hydroelectric power plants. MENZEL three-phase asynchronous generators are especially economical and reliable in operation, and also have a long lifespan, which above all reduces maintenance costs.
MENZEL three-phase asynchronous generators are designed and produced specifically for your intended industrial application. In addition to wind and hydro power plants, common areas of application include test areas, rail vehicles, and ships.
Depending on their industrial application, synchronous generators feed into their own network, or are operated in parallel to an already existing network. So-called networked asynchronous generators require a feed-in network for energy generation, whereas capacitor asynchronous generators require a capacitor battery, which is connected in parallel, in isolated operation.
Typical areas of application of three-phase asynchronous generators
Wind and hydro power plants
Test area
Rail vehicles
Ship drives
Are you looking for a manufacturer that can produce a three-phase asynchronous generator to your specific requirements? Ask us!