IP67 motors – watertight
For many years, watertight MENZEL IP67 motors have proven to be a reliable drive solution in industrial plants and pump stations around the world.
MENZEL IP67 motors are typically found in water pump stations (for example in Egypt), cooling towers, or other industrial facilities – in particular those in which hazardous quantities of water are processed, which could easily lead to damage to the motor. Motors in protection class IP67 are best suited to implementation in flood prone areas.
Technical data on IP67 motors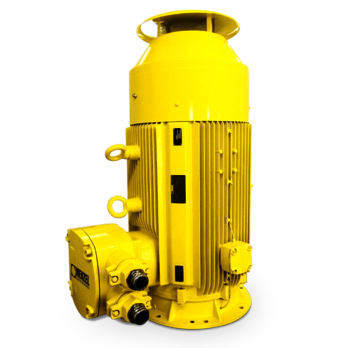 Three-phase asynchronous motors with squirrel cage rotor or slip ring rotor
Power range: from 37 kW to 1,500 kW
Voltage: from 380 V to 13,800 V
Common construction types: IM B3, IM B5, IM V1, IM B35
Available dimensions: up to frame size 500
Motor housing: Gray cast iron
Thermal utilization: F/B
Cooling type: IC 411
Pole count: 2-16 poles
MENZEL IP67 – the advantages at a glance:
Reliable operation under extreme conditions
Watertight and therefore suitable for use in areas prone to flooding
Dust and dirt resistant due to optimal dimensional accuracy
Robust and powerful, just like all MENZEL electric motors
Quickly available and individually adaptable
The right protection for your motor – Characteristics
For users, it is difficult to decide on the right degree of protection for a particular industrial application. As manufacturers of electric motors for industrial applications, we specialize in providing advice on this, and offering the optimum drive solution for your requirements.
The protection class of the motor must always correspond to the actual on-site requirements, as opposed to the typical production standards of the manufacturer. The calculation and design of our MENZEL motors take into account all the environmental conditions at the site of installation. A thorough, careful assessment of these environmental conditions ultimately has a significant impact on how many years your motors will run smoothly and meet your production requirements.
The most common motor protection class for industrial motors is IP55. Motors in this protection class are fully protected against contact with, and damage caused by, dust deposits, as well as splash water from all sides.
Because as specialists in special drive solutions we are frequently confronted with challenging specifications, we also offer motors with protection classes which go beyond the industrial standard (IP55). MENZEL three-phase low, medium and high voltage motors are also available, for example, in the following increased motor protection classes.
Typical areas of application of IP67 motors
IP 67 motors are typically used in industrial areas where there are extreme operating conditions which are influenced by dust, fiber, dirt and water.
Pump drive
Drives in beverage and filling plants
Top deck installation on ships
Port and harbor facilities
Wastewater treatment plants
Cooling systems
Are you looking for high quality and durable electric motors in protection class IP67? Don't hesitate to contact us!